Disposal Instructions
---
Information on the return and disposal of B2B waste electrical equipment
B2B electrical devices within the meaning of the Electrical and Electronic Equipment Act are devices that are used exclusively in households other than private households and devices that are not usually used in private households.
Separate disposal
We would like to point out to all owners of B2B electronic devices that the crossed-out garbage can means that they are legally obliged to collect these devices separately from unsorted municipal waste. According to this, the disposal of old electrical equipment in the residual waste bin or the yellow bin is prohibited.
You can use the following symbol to identify old devices that must be disposed of separately from unsorted municipal waste.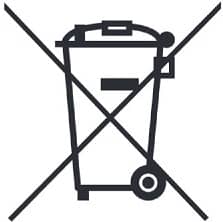 Removal of batteries or accumulators as well as lamps
Owners of old electrical equipment are legally obliged to remove the old batteries and accumulators as well as lamps before handing them in, provided they are not permanently installed in the old equipment.
Data protection - Deletion of personal data on old electrical equipment
The end user of the old device is responsible for deleting personal data on the old device to be disposed of.
Possibility of returning old equipment
The ADONTEC GmbH covers the costs of treatment, recycling and recovery of the products.
The customer bears the costs for the delivery of the old B2B electronic devices to ADONTEC GmbH or the authorized collection point.
Please report your return in writing (e.g. by email email to info@adontec.com, pdf Document) stating the address of the company, contact person, telephone number and email as well as the designation (possibly serial number or invoice number) of the old device and the estimated total weight. You will then receive an RMA number, which you should attach to the packaging so that it is clearly visible.
The shipment will not be accepted without a visible RMA number!
The old devices must be free of foreign materials or other old third-party devices.
WEEE registration number
ADONTEC GMBH, DE31062112 (B2B)